Navigating Walmart's New OTIF Scorecard in Retail Link
2021-03-12
10 min read
Learn about:
The OTIF Scorecard in Retail Link
Downloading and filtering data
Viewing your OTIF performance, charges, and purchase order details
---
With Walmart's announcement of new changes to its On Time In Full program in 2020, the retailer also rolled out a new app in its Retail Link software for suppliers.
The Retail Link OTIF Scorecard contains many options for analyzing your score and downloading data. This latest version of Walmart's OTIF Scorecard is a much more user-friendly version than the previous one. 
Let's walk through accessing the dashboard and the reports you can download.
The OTIF Scorecard
In Retail Link, select Apps, then select On Time In Full (OTIF) Scorecard to access the application.
Retail Link – Apps
Once you log into the landing page, you'll see the Summary page with the below options across the top and down the left side of the page. Let's cover them briefly.
Retail Link – OTIF Summary
Top Menu
The Performance tab indicates how your business performed across the latest updated week.
The Charges tab provides visibility to all OTIF fines that Walmart has invoiced and shows future projections of non-invoiced POs.
The Help toggle displays a button that explains what action each chart or filter provides.
The Filter option is a global filter to customize data. You can also save up to 10 filter settings.
The Download option allows you to download the current page view as a CSV or PDF file.
Left Side Menu
The bars icon provides the same view as the Performance tab above.
The sheet icon provides downloadable PO Details.
The question mark (?) opens the frequently asked questions page.
The megaphone shows Walmart announcements. It will also display as a banner across the top of the page at login.
Downloading files
The process for downloading files applies equally throughout the OTIF Scorecard. If the download button below is visible in the top right corner of a page, then the contents of that page are available for download.
OTIF Dashboard – Download button
When you click the Download button from the Summary page, you'll get the option to select CSV or PDF. 
Download options – CSV or PDF
Downloading the Summary page as a PDF will return data as a chart.
Summary – Performance as a PDF report
Downloading as CSV will return the data as a file with tabs included for each data set, such as accountability information and distribution center performance.
Summary – Performance as a CSV report
Note – From the PO Details page, only the CSV download is available.
OTIF Dashboard filters
Let's discuss filters and saving preferences. When you select the filter button, you'll get the below filtering options:
Walmart Stores versus e-commerce
6 Digit Supplier number
9 Digit Supplier number
Vendor Pool ID number
Distribution Center Number
Freight Type (Prepaid or Collect)
Merchandising Alignment
Supplier Business Unit
Department
Category
Buyer ID
Use the dropdowns to filter the data you want to view. You can have as many filters as you want, and in all dropdowns, you may select multiple options.
Click the Apply button to execute. The page will load to reflect your selections. You'll note there is now a number beside the filter, which indicates the total of filters applied to the current view
OTIF Dashboard – Filter indicator
OTIF Dashboard – Filters applied view
To remove your selections, click the Reset button at the bottom.
Saving and deleting filters
You can Save any filter by clicking the Save As button and naming it. You can save up to 10 combinations.
To delete a saved filter:
Select the filter you wish to delete
Click the Manage button 
Click the Delete Filter button
On the popup window, click the Yes Delete button
Filters – Delete Filter button
Filters – Delete confirmation window
Summary page – Performance section
Let's review the Summary page Performance section.
You can filter this page globally by using the Filter option in the top right corner, as described previously in the filtering section. Directly below the download button, you have a view of the current filters you have selected.
The download button works the same way as previously discussed in the Download section. You can choose to download to CSV or PDF. It's important to note that filters applied will impact what data you can download. To pull all data for a page, ensure the Filters applied is "Total Company."
Filters applied – Total Company
The OTIF dashboard globally defaults to the latest Walmart week of data. In the "Data displayed for" dropdown, you can select historical weeks.
OTIF Dashboard – "Data displayed for" dropdown
You can view the first two charts, On Time Accountability and In Full Accountability, historically by using the "Week" dropdown selection.
The third chart displays Accountability, On Time Variances, and Trend Analysis. Click each tab name to view these metrics. 
OTIF Summary – Accountability View
OTIF Summary – On Time Variance
OTIF Summary – Trend Analysis
Related Reading: Walmart OTIF Metrics
Additionally, there is a "Show Me" chart with two dropdown menus to view these three metrics in greater detail.
OTIF Summary – Show Me chart
You may filter this chart in many ways. You can change the views from Top 10 (showing your best-performing metrics) to Bottom 10 (showing your worst-performing metrics).
You may apply these business filters:
6 Digit vendor number
9 Digit vendor number
Merchandising Alignment
Supplier Business Unit
Department
Category
Distribution Center Number
Lastly, the DC Performance is also filterable and provides a plethora of detail. You can filter by Location, Metric, and Network. You can also filter by OnTime, In Full, and Collect Ready.
You'll see dots depicting DC locations, colored green or red, depending on performance status on the map. Click on the dot, and more details will populate to the right side of the map.
OTIF Summary – DC Performance map
Summary page – Charges section
While staying on the Summary page, let's select the "Charges" button at the top of the page. As stated, Filters and Download functionality apply to this page as well.
Default is the latest week. The top chart provides a 13-month view of fines and additionally breaks it down by metric.
OTIF Dashboard – Charges view
The second-row chart provides a breakdown by Accountability and Merchandising Alignment. Additionally, the "Show Me" chart provides additional analysis detail.
Charges Breakdown by Accountability
The third row is your "Trend Analysis." This option provides a view of "All Metrics." You can also filter by three 13WK (weeks) ranges and compare those to the same period Last Year.
Charges Summary page – Trend Analysis
Related Reading: OTIF Best Practices
PO Details page
Now let's move to the side menu, and look at the sheet icon. 
Side menu – Sheet icon for PO Details
This takes us to the PO Details page, where we have many options and views of the raw purchase order data used throughout the charts we've previously discussed. This page defaults to the latest OTIF completed fine month.
OTIF App – PO Details page
This page is filterable at many levels to ensure you have full access to every level of your data. As with the dashboard, you can filter by date using the dropdown. You can also use the global Filter and Download at the top right corner.
On this page, you can view the PO Line Level details, displaying the individual purchase order information, or view the Receiver details, which show the case counts.
For the PO Line Level view, you have the following options for filtering:
6 Digit Supplier number
9 Digit Supplier number
OMS PO Number
Order Date
MABD (Must Arrive By Date listed on the PO)
Cases Ordered
OTIF percentage score
On Time percentage score
In Full percentage score
For the Receiver view, you have the following options for filtering:
6 Digit Supplier number
9 Digit Supplier number
OMS PO Number
Order Date
MABD (Must Arrive By Date listed on the PO)
Cases that were early
Cases that were on time
Cases that were late
At the far right, you can select the three dots to open a dropdown, revealing more filter column options. These options are:
6 Digit Supplier number
Walmart Week
Supplier Name
Department
Category
9 Digit Supplier number
Host PO Number
OMS PO Number
Order Date
Channel Method Type
PO Type (manual or system-generated)
Cancel PO Flag
Manual PO Flag
PO Event Code
PO Line Number
Item name
Buyer ID
Freight Type (prepaid or collect)
Distribution Center Network
Distribution Center Number
Must Arrive By Date (MABD)
Original MABD
Adjusted MABD
11 to 11 Indicator
Consolidation Flag
Vendor Pool ID
Cancel Reason Code 
Confirm Shipment Date
Confirm Shipment Time
Original Cases Ordered
Adjusted Cases Ordered
Total Cases Ordered
Case Cost
Total Cost-of-Goods Sold (COGS)
OTIF score
On Time score
In Full score
Collect Ready score
Cases that were Early
Cases that were On Time
Cases that were Late
Cases that were Unfilled
Cases that were Overfilled
Cases that were Damaged
Cases that were Not-in-Full
Cases that had Late Routing (confirmed shipment)
Supplier Ship Point Cases
Prepaid Early Cases
Prepaid Late Cases
Prepaid Unscheduled Cases
Supplier Affected Cases
Supplier Affected COGS
Cases for Manual PO <45 Days
Cases for Delayed System POs
Cases for Canceled POs
Collect Early Cases
Collect Late Cases
Collect Unscheduled Cases
Walmart Affected Cases
Walmart Affected COGS
You can download all filtered data to a CSV file. You can also pin up to six filter views.
Additional pages
There are two additional pages in the OTIF App: FAQs and Announcements. 
The Question Mark (?) icon on the side menu links the Supplier Academy article on what OTIF is and how Walmart calculates it.
Side Menu – Question mark icon for FAQs
The megaphone icon provides the latest announcements on what may influence OTIF data (e.g., hurricane activity causing store or DC closures) and what actions Walmart may be taking.
Side Menu – Announcements icon
Tracking 3rd party data
While the new OTIF Scorecard has a lot of functionality, it still lacks drill-down analyses into how third parties affect OTIF performance. With SupplyPike's OTIF Radar, you can get in-depth, actionable insights into your data.
OTIF Radar – Drill-down analysis of carrier performance
Export reports and send them to your third parties to negotiate fines settlements, better rates, and improved terms. Get started today to see how SupplyPike can improve your OTIF score!
Written by Dennis Whitfield
About Dennis Whitfield
Dennis has 28 years of experience in supply chain. He founded Big Blue Analytics LLC in 2019, providing analytical reporting to Walmart suppliers.
Read More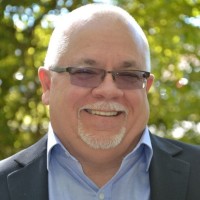 About